Line up

Phil : Chant
Nico : Rythm Guitar
Pascal : lead Guitar
Jahno : Basse
Jean Yves : Batterie
Amoureux de musiques douces passez votre chemin, nous sommes ici en présence d'un album qui dégouline le thrash metal !
Les guitares sont acérées et la section rythmique vous bastonne les tempes !
Hatred Dusk sort donc sont premier album et ça fait du remu-ménage dans la communauté metal. Ils sont attendus par leurs fans depuis les années 90, mais les circonstances en ont vouluent autrement.
C'est donc tel le phénix que le groupe renait de ses cendres et que ses fans ressortent des tombes, allez voir ce groupe sur scène vous n'aurez jamais vu autant de t-shirt d'un même groupe dans une salle.
Revenons en à cet album enregistré et mixé au Hybrid Studio, nous sommes en présence de 8 titres dont une interlude remasterisée, vestige des 90's (sortie de la démo dreadfuls vision)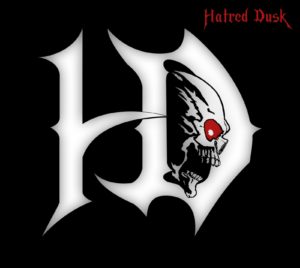 01 – Raging Dog
02 – NWO
03 – Blinded by hate
04 – Unleash the dog
05 – Welcome to…
06 – Darkness
07 – The wasteland
08 – RATP
Les compos sont extrêmement bien conçues, lorsque la galette démarre, c'est un flot incessant de riffs qui donnent envie de bouger, de solos endiablés et de parties de batteries accrocheuses qui nous donnent un coup derrière la nuque sans crier garde.
Quelques relans de punk et des parties heavy viennent clairsemer l'ensemble, histoire de ne pas se retrouver dans un crossover thrash dénué d'intérêt.
Note intéressante un certain nombre de guests sont présents sur les choeurs :
Tanguy bourgeois (Think),
Marine Ternon (Thorn in flesh),
Alan Raoul (Hot hell room),
Harknoia (Heavyction / Hürlement)
Nico du hybreed (qui a officié chez no return)