Rumble2Jungle – les Disquaires – Paris
Posté par
JM RocknBlues
le 28 Déc 2016 dans
Concerts
•
Pas de commentaires
Rumble2Jungle est un groupe Français fondé par le guitariste Eddy Leclerc, l'arrivée de la chanteuse Kissia San ayant orienté le groupe vers des influences Soul et Funk : le son de Sly & the Family Stone n'est jamais loin.
J'avais découvert Rumble2Jungle lors du dernier Tremplin Blues Sur Seine dont il était un des six groupes finalistes sachant qu'ils étaient repartis avec un des trois trophées en lice à savoir le Prix Club Mississippi. Ayant apprécié ce groupe lors de leur courte prestation (chaque groupe disposant d'une vingtaine de minutes) , c'est tout naturellement que ce vendredi 16 décembre, mes pas m'ont guidé vers Les Disquaires (bar/salle de concert) , pour assister à un "vrai' concert de Rumble2Jungle à l'occasion de la sortie de leur 1er album R2J.
C'est dans une salle bondée que le groupe nous a fait découvrir quelques uns des morceaux de leur nouvel album ainsi que quelques reprises dont un des titres les plus connus de Sly & Family Stone à savoir I Want' To Take You Higher.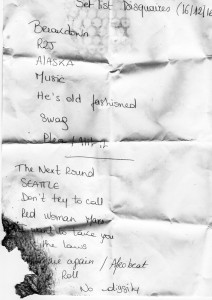 Au final, un peu plus de 2 heures de concerts dans une salle survoltée. Personnellement dès qu'ils repassent j'y serais.
En savoir plus :
Site de Rumble2Jungle
Facebook de Rumble2Jungle
Site de Les Disquaires
Facebook de Les Disquaires