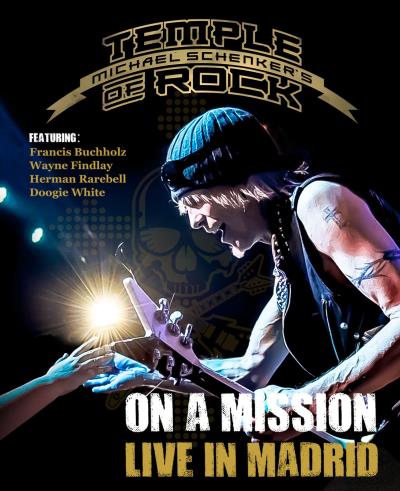 « Temple Of Rock » est le dernier projet en date de Sieur Michael Schenker, ce n'est plus, ni moins que le « Michael Schenker Group » amélioré puisque l'on y retrouve […] Francis Buchholz  (basse)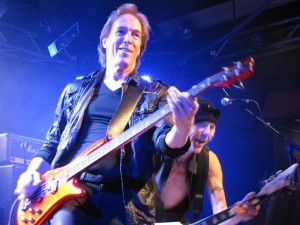 & Herman Rarebell (batterie)
, anciens membres de SCORPIONS (période 70's/80's, la meilleure en fait). Viennent s'y ajouter Doogie White  au chant (ex Midnight Blue, Rainbow, Yngwie Malmsteen's Rising Force)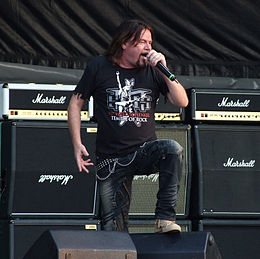 et Wayne Findlay  aux claviers & guitares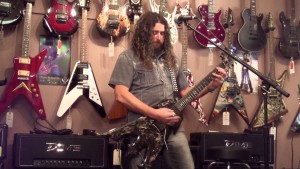 .
Ce DVD « On A Mission Live In Madrid » est donc le témoignage de leur dernière tournée mondiale. Chance pour nous, le « Mad Axeman » (surnom de Michael Schenker) s'y présente dans une forme excellente (on l'a connu au plus bas dans les 90's), tout sourire dehors (nous n'étions plus habitués), et bien-sûr la guitare acérée et en surchauffe.
Michael Schenker, c'est l'homme qui était aux côté de son illustre frère Rudolph sur le 1er album du groupe SCORPIONS « Lonesome Crow », c'est celui qui amena le groupe UFO aux sommets dans les seventies, puis qui s'en alla voler de ses propres ailes en fondant le Michael Schenker Group (MSG).
Une carrière faite de très haut, mais malheureusement aussi de très bas, mais l'homme n'a jamais baissé les bras, et il fait plaisir en 2016 de le voir, à  plus de 60 ans, nous revenir en si bonne forme.
La setlist proposée dans "On A Mission Live In Madrid" se veut être un parfait équilibre entre toutes les périodes de la déjà très longue carrière dudit Michael Schenker.
Ici, on ne verra et n'écoutera que le must des titres composés par ce fabuleux guitariste que peut être Michael Schenker, exception faite des titres de SCORPIONS qui ne sont joués et dus qu'à la présence de Herman Rarebell & Francis Buchholz (quoi que sur « Lovedrive » et « Coast To Coast », Michael y a apposé sa griffe à l'époque lors de l'enregistrement de l'album « Lovedrive » de SCORPIONS).
Sur l'ensemble de sa carrière, ma préférence irait à la période UFO (70's), qui reste à ce jour ce qu'il a fait de mieux. On ne se lasse pas d'entendre et réentendre un titre comme « Rock Bottom » avec son solo de guitare à rallonge ("Rock Bottom" Version UFO 1975 ah oui j'avais oublié les coupes de cheveux et autres boots – "Rock Bottom" Version Michael Schenker's Temple Of Rock 2015).
Un concert, sans temps mort, chargé d'adrénaline et dont la devise pourrait être « Rock'n'Roll Will Never Die! » (MSG "Rock Will Never Die" (Live)).
Michael Schenker est, et restera, un immense guitariste de Hard Rock………………..fidèle à Gibson et à son modèle « Flying V ».
JL
Michael Schenker Group : Site Officiel
UFO : Site Officiel
SCORPIONS : Site Officiel
Michael Schenker's Temple of Rock – « On a Mission : Live in Madrid » Track Listing
1. « Ocean Odyssey – Intro »
2. « Doctor Doctor » (UFO)
3. « Live and Let Live » (Michael Schenker's TEMPLE OF ROCK)
4. « Lights Out » (UFO)
5. « Where the Wild Winds Blow » (Michael Schenker's TEMPLE OF ROCK)
6. « Natural Thing » (UFO)
7. « Before the Devil Knows You're Dead » (Michael Schenker's TEMPLE OF ROCK)
8. « Victim of Illusion » (Michael Schenker Group)
9. « Lovedrive » (SCORPIONS)
10. « Coast to Coast » (SCORPIONS)
11. « Vigilante Man » (Michael Schenker's TEMPLE OF ROCK)
12. « Rock My Nights Away » (Michael Schenker Group)
13. « Saviour Machine » (Michael Schenker's TEMPLE OF ROCK)
14. « Too Hot to Handle » (UFO)
15. « Only You Can Rock Me » (UFO)
16. « Lord of the Lost and Lonely » (Michael Schenker's TEMPLE OF ROCK)
17. « Rock You Like a Hurricane » (SCORPIONS)
18. « Rock Bottom » (UFO)
19. « Horizons » (Michael Schenker's TEMPLE OF ROCK)
20. « Attack of the Mad Axeman » (Michael Schenker Group)
21. « Communion » (Michael Schenker's TEMPLE OF ROCK)
22. « Blackout » (SCORPIONS)
Discographie Michael Schenker
Avec Scorpions
1972 : Lonesome Crow
1979 : Lovedrive
Avec UFO
1974 : Phenomenon
1975 : Force It
1976 : No Heavy Petting
1977 : Lights Out
1978 : Obsession
1979 : Strangers in the Night
1995 : Walk on Water
2000 : Covenant
2002 : Sharks
Michael Schenker Group
1980 : The Michael Schenker Group
1981 : MSG
1982 : One Night in Budokan
1982 : Assault Attack
1983 : Built to Destroy
1984 : Rock Will Never Die
1995 : Written in the Sand
1999 : The Unforgiven
2000 : The Unforgiven Live World Tour
2001 : Be Aware of Scorpions
2003 : Arachnophobiac
2005 : Heavy Hitters
2006 : Tales of Rock'n'Roll
2008 : In the Midst of Beauty
Michael Schenker's Temple of Rock
2011 : Temple of Rock
2013 : Bridge the gap
2015 : Spirit on a mission
McAuley Schenker Group
1987 : Perfect Timing
1989 : Save Yourself
1991 : MSG
1992 : Nightmare – The Accousitc MSG
En Solo
1993 : Thank You
2000 : Adventures of the Imagination
2000 : The Odd Trio
2001 : Dreams and Expressions
2001 : Thank You
2002 : Thank You 2
2002 : Thank You 3
2003 : Thank You 4